Print page
Rodilon Block - Discontinued
Rodilon Block - Discontinued
Print page
Product Overview
Rodilon Block is a highly potent anticoagulant extruded block with no known resistance in rats or mice.

Product Description
For indoor use in Ireland and for indoor and outdoor use (around buildings) only in the UK, Rodilon Block is highly palatable and formulated with high-food grade ingredients. These moisture and mould resistant blocks makes them the ideal bait for hot and damp conditions.
Key Features and Benefits:
Multiple edges of the block is designed specifically to encourage rodents feeding and are adapted to their gnawing habits.
The green colouring of the block shows in the rodent excrement indicating bait has been taken.
No known resistance in rats or mice.
To find information on responsible rodenticide use and rodenticide stewardship, please visit the CRRU (Campaign for Responsible Rodenticide Use) website.
Rodilon Block contains 0.0025% w/w Difethialone (BPR: UK-2011-0048, IE/BPA 70181) USE BIOCIDES SAFELY. ALWAYS READ THE LABEL AND PRODUCT INFORMATION BEFORE USE. PAY ATTENTION TO THE RISK INDICATIONS AND FOLLOW THE SAFETY PRECAUTIONS ON THE LABEL.
Application rates and delivery
Further Information:

How to use:
The effects on rodents can be seen 3 to 5 days after the first consumption of the bait.
Rats may take several days before starting to feed because of their neophobic behaviour (fear of anything new).
Rats and mice can consume a lethal dose in one feed.
The green colouring of the blocks shows in the rodent excrement indicating bait has been taken.
Rodilon Blocks may be applied by professional users only when appropriate chemical resistant gloves (EN374) are used.
Baits must be securely deposited in suitable trays, under cover or in tamper resistant bait stations so as to minimize the risk of consumption by other animals or children.
Prevent access to Rodilon Blocks by children, birds and non-target animals, (particularly dogs, cats, pigs and poultry).
Where possible, secure baits so that they cannot be dragged away.
Unless under the supervision of a pest control operator or other competent person, do not use anticoagulant rodenticides as permanent baits.
In most cases, anticoagulant bait should have achieved control within 35 days. Should activity continue beyond this time, the likely cause should be determined.
Public Area Use:
When the product is being used in public areas, the areas treated must be marked during the treatment period and a notice explaining the risk of primary or secondary poisoning by the anticoagulant as well as indicating the first measures to be taken in case of poisoning must be made available alongside the baits. When tamper resistant bait stations are used, they should be clearly marked to show that they contain rodenticides and that they should not be disturbed. Antidote vitamin K1 (under medical supervision).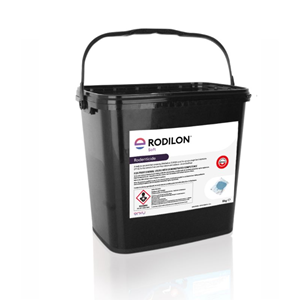 Rodenticide
Rodilon Soft Block
Rodilon Soft Block is a highly potent anticoagulant paste...
See product Discontinued Products
Racumin Paste - Discontinued
Racumin Paste is a highly palatable first generation...
See product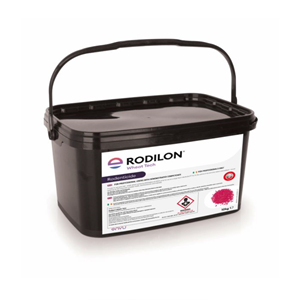 Rodenticide
Rodilon Wheat Tech
Rodilon Wheat Tech is a highly potent anticoagulant whole...
See product Discontinued Products
Rodilon Trio - Discontinued
Rodilon Trio is a highly potent anticoagulant mixed grain...
See product