How The Pest Control Industry's Been Affected By Covid-19 In 2020
What impact has Covid-19 had on the UK's pest control sector in 2020?
Looking back on 2020
When Covid-19 arrived on our shores early in 2020 it was quickly decided that pest managers would be given key worker status, due to their role being fundamental to human health and food safety.
Because of this status the majority of pest control businesses have managed to keep their staff in work and for some, they've had the busiest year on record.
Even when the first national lockdown occurred, pest managers were still in demand by domestic and commercial businesses, as rodents became a big problem once everything shut down. It was also a very busy summer for wasp control.
Each pest control business has been affected in different ways, but many have managed to ride the Covid-19 storm and in some instances, they've had to source additional resources to keep up with the growing demand.
There's no doubt Covid-19 has made pest managers roles more challenging with restrictions to adhere to, but demand has still been high, and many businesses are feeling confident heading into 2021.
We talked to two pest controllers to get their take on the 2020 season.
How have pest managers faired in 2020?
Andrew Dellbridge, owner of ACE Pest Control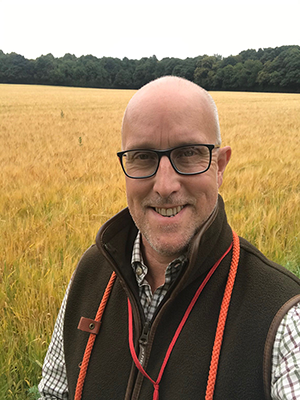 In January, the business was thriving, and this has continued throughout the Covid-19 pandemic, says Andrew.
"Pest control is typically very seasonal. Previously, summer and winter have been the busiest times of the year, but the mild weather conditions and everyone being at home, means we have been busy all year round.
"At the start of lockdown domestic pest control was our busiest area. This was because the weather was warm and people were leaving their doors open, meaning we saw a spike in rodents heading into homes," says Andrew.
"We also do a lot of commercial pest control, and many businesses wanted to put it on hold during lockdown. We advised them not to do this as it would lead to infestations during their closure, which could result in long-term damage for the business, so in most cases we still carried out routine checks."
"We've also had some unusual call outs," says Andrew. "Typically, Norwich city centre is busy with people, but this year we've seen a lot more pests in the deserted town centres, with sightings of rats more commonplace. There have even been instances of deer being spotted," he adds.
Andrew adds that in terms of resourcing during 2020, they have taken on more staff and invested in additional vehicles and equipment because they have been so busy.
"The business has been stretched, but we feel in a strong position heading into 2021, which is more than can be said for many sectors this year," he says.
Sandy Tisdale, pest technician at Leo Pest Control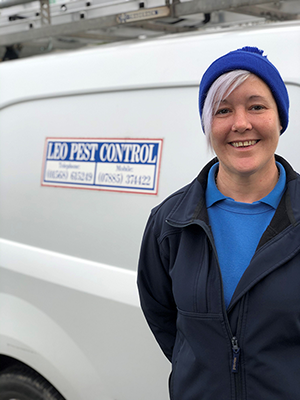 From a pest technician's perspective Sandy explains that 2020 has been an uncertain year, but as key workers they have been able to continue to work as normal and have been very fortunate that the level of work was maintained throughout the pandemic.
"When we initially went into lockdown, we were concerned about what this would mean for us as pest controllers, but we've been able to continue to do commercial and domestic visits throughout the pandemic, while adhering to Covid guidelines.
"Domestic visits have actually been very busy this year because people have been at home more, hearing and seeing mice and wasps.
"These two pests have been the reason for most of our callouts this year. The wasp season started early and didn't finish until November, due to the mild weather conditions we've experienced," says Sandy.
"The food businesses and factories also remained open. The only area where work stopped for a couple of months was environmental clearance activities for the housing association. We normally clear the houses and make sure they are hygienically safe for contractors, but because many of them were on furlough for the first couple of months this wasn't needed, but it's returned to normal now," she says.
Aside from Covid-19, the flooding in early 2020 resulted in high rodent activity, which meant we had a busier start to the year than normal, trying to keep them at bay, she explains.
"Overall, we're very fortunate as a sector and business that we haven't been negatively affected by Covid-19, unlike some other industries and we're in a strong position moving forward into 2021," says Sandy.
Timothy Peeling, Bayer product manager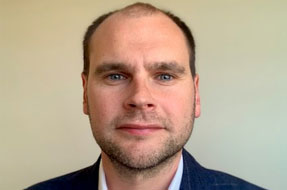 "The resilience of the pest control industry through this challenging year has been fantastic and it's great to see the sector's importance recognised at government level, with pest controllers receiving key worker status early on in the pandemic.
"The pest control sector has done a fantastic job this year, and it will be great to see this continue into 2021."