/// Change for good
The responsible choice
Managing complex rodent infestations whilst reducing environmental risks are challenges that pest managers face daily. The performance of the treatment and its success can often be affected by the products capabilities and restrictions.
Harmonix® Rodent Paste contains the active substance cholecalciferol which is highly effective on all target rodent species, with a wide application allowance on the label, rodent infestations no longer have to be compromised.
//

PERFORMANCE IN ALL AREAS
To be used in multiple situations including; indoors and around buildings, outdoor open areas and waste dumps, furthermore, direct application into the rat burrow.
//

LESS BAIT, GREAT PERFORMANCE
The stop feeding effect will save up to 50% less bait.
//

MORE RESPONSIBLE
From chemistry to packaging, to application.
//

DYNAMIC IPM
Only available with the Envu rodent control range.
////

INNOVATION AT ALL LEVELS
//

NEW FLEX-BAG
Modern and flexible packaging, easy to use and store
//

MORE SUSTAINABLE
Up to 80% less plastic
//

LESS WASTE
Reducing plastic waste with efficient packaging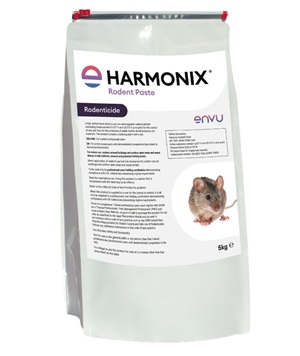 Rodenticide
Harmonix® Rodent Paste
Harmonix® Rodent Paste is the result of years of innovation...
See product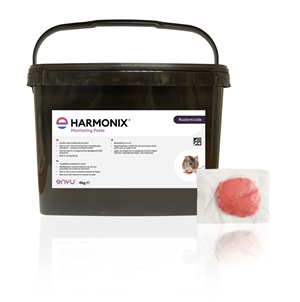 Rodenticide
Harmonix® Monitoring Paste
Harmonix® Monitoring Paste is a non-toxic bait with full...
See product
Always use rodenticides safely and read the product label before use