Product Overview
Dedicate is a contact and systemic fungicide for use in managed amenity turf, at any time of the year
Product Description
For the control of Microdochium Patch (Microdochium nivale), Red Thread (Laetisaria fuciformis), Anthracnose (Colletotrichum cereale), Dollar Spot (Sclerotinia homoeocarpa), Leafspot (Drechslera spp.), and Rust (Puccinia spp) in amenity turf. It can be applied year round to managed amenity turf sites including; golf courses, institutional, commercial and residential lawns, sports fields, parks, bowls and cricket pitches, municipal grounds and cemeteries.
Key Features and Benefits:
Displays protective and some curative activity
Rapid-acting; proven results within two weeks of application thanks to unique additive system
Superior penetration; dual action protects your turf inside and out
Low dose; 1 Litre treats 1 hectare
Dedicate contains 200g/L tebuconazole and 100g/L trifloxystrobin (MAPP 17003). USE PLANT PROTECTION PRODUCTS SAFELY. ALWAYS READ THE LABEL AND PRODUCT INFORMATION BEFORE USE. PAY ATTENTION TO THE RISK INDICATIONS AND FOLLOW THE SAFETY PRECAUTIONS ON THE LABEL.



Application rates and delivery
Further Information:
Safety instructions:
Please read the product label carefully.
Do not breathe spray.
This material and its container must be disposed of in a safe way.
Wear suitable protective clothing and gloves.
Use appropriate containment to avoid environmental contamination.
May produce an allergic reaction. Contains trifloxystrobin.
To avoid risks to man and the environment comply with the instructions for use.
How to use:
Sprayers should be THOROUGHLY CLEANED before use and filters and jets checked for damage and blockages.
Thoroughly shake the pack before use.
Half fill the sprayer tank with clean water and agitate.
Add the required amount of Dedicate.
Mix thoroughly and make up to the required volume of water while still agitating.
Spray immediately after mixing.
Continue agitation at all times during spraying and stoppages, until the tank is completely empty.
Wash out all spray equipment thoroughly with water immediately after use.
Timing:
Dedicate should be used preventatively or as early as possible in the disease cycle, applying at the first sign of disease.
Dedicate can be used when grass is either dormant or activity actively growing and displays both protective and some curative activity.
If grass is being mown, Dedicate should be applied after cutting and further mowing should not take place until AT LEAST 48 hours after treatment. This is to allow adequate movement of the systemic active ingredients throughout the plant.
Allow at least 28 days between applications of Dedicate. Do not apply sequential applications of Dedicate.
Alternate with a fungicide having a different mode of action.
Do not apply during drought conditions or to frozen turf.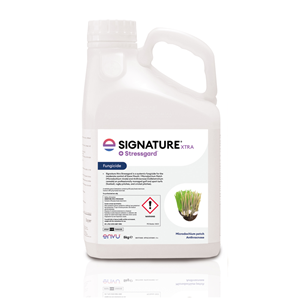 Fungicide
Signature® XTRA Stressgard® currently for Ireland
The first FULLY systemic fungicide available to the Irish...
See product Discontinued Products
Harmonix® Tri-Nema™ - Discontinued
Harmonix® Tri-Nema™ offers 3 different modes of activity in...
See product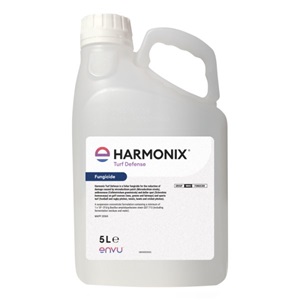 Fungicide
Harmonix Turf Defense
Harmonix® Turf Defense is a new turf bio-control fungicide...
See product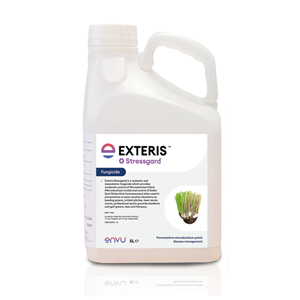 Fungicide
Exteris Stressgard
Exteris Stressgard is the first combination SDHI fungicide...
See product