Product Overview
An anticoagulant contact rodenticide for indoor use against rats and house mice.
Product Description
Racumin Foam is a unique foam formulation, non-bait rodenticide offering an alternative method of control to rat and mouse infestations. Unlike baits which are reliant on palatability for uptake, Racumin Foam works with the rodent's natural grooming habits and is effective as a result.
Key Features and Benefits:
Quick and easy to apply: ready to use product
Takes advantage of a rodent's grooming behaviour
Can be used in locations where traditional baiting methods are not possible
Controls Norway rats (Rattus norvegicus) and House mice (Mus musculus)
Racumin Foam contains 0.4% coumatetralyl. USE BIOCIDES SAFELY. ALWAYS READ THE LABEL AND PRODUCT INFORMATION BEFORE USE. PAY ATTENTION TO THE RISK INDICATIONS AND FOLLOW THE SAFETY PRECAUTIONS ON THE LABEL.
Application rates and delivery
Further Information:

How to use:
A thorough survey of the infested area is essential to determine the extent of the infestation.
Foam must NOT be used as a tracking product.
Apply at least 2 m from storage locations for food and animal feeding stuffs.
Bring can to room temperature and shake vigorously until the mixing ball rattles.
Attach dispensing tube and press button to release foam.
The foam can be applied as a single application or as a number of small applications along the track.
To enable the rodents to continue using their entrance points / holes do not totally seal off with the foam - keep the opening clearly visible.
The released foam usually lasts for 7-12 days, depending on disturbance and temperature/humidity.
Do not apply to surfaces likely to stain – perform a patch test if necessary.
Wipe off excess foam with a dry paper towel.
Search for and remove dead rodents at frequent intervals during treatment.
Daily inspection may be required in some circumstances.
Collect dead bodies and any product residue after the treatment is complete, contaminated materials and containers to prevent public health problems and secondary poisoning and dispose in accordance with local requirements.
Do not use as permanent rodenticide.
Control should be achieved within 35 days.
Should activity continue beyond this time the likely cause should be determined.
Do not empty into drains. Prevent the product, residues and emptycontainers from entering bodies of water.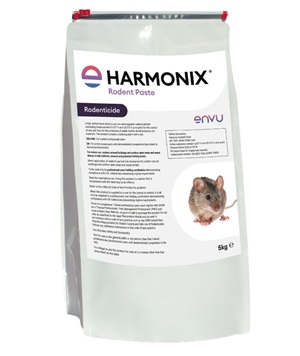 Rodenticide
Harmonix® Rodent Paste
Harmonix® Rodent Paste is the result of years of innovation...
See product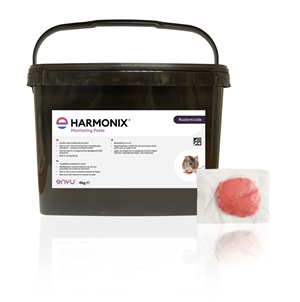 Rodenticide
Harmonix® Monitoring Paste
Harmonix® Monitoring Paste is a non-toxic bait with full...
See product